Warning
: mysqli_query(): (HY000/1194): Table 'wp_options' is marked as crashed and should be repaired in
/home/cathdaily/public_html/wp-includes/wp-db.php
on line
2007
Warning
: mysqli_query(): (HY000/1194): Table 'wp_options' is marked as crashed and should be repaired in
/home/cathdaily/public_html/wp-includes/wp-db.php
on line
2007
Warning
: mysqli_query(): (HY000/1194): Table 'wp_options' is marked as crashed and should be repaired in
/home/cathdaily/public_html/wp-includes/wp-db.php
on line
2007
Warning
: mysqli_query(): (HY000/1194): Table 'wp_options' is marked as crashed and should be repaired in
/home/cathdaily/public_html/wp-includes/wp-db.php
on line
2007
Warning
: mysqli_query(): (HY000/1194): Table 'wp_options' is marked as crashed and should be repaired in
/home/cathdaily/public_html/wp-includes/wp-db.php
on line
2007
Warning
: mysqli_query(): (HY000/1194): Table 'wp_options' is marked as crashed and should be repaired in
/home/cathdaily/public_html/wp-includes/wp-db.php
on line
2007
Warning
: mysqli_query(): (HY000/1194): Table 'wp_options' is marked as crashed and should be repaired in
/home/cathdaily/public_html/wp-includes/wp-db.php
on line
2007
Warning
: mysqli_query(): (HY000/1194): Table 'wp_options' is marked as crashed and should be repaired in
/home/cathdaily/public_html/wp-includes/wp-db.php
on line
2007
Warning
: mysqli_query(): (HY000/1194): Table 'wp_options' is marked as crashed and should be repaired in
/home/cathdaily/public_html/wp-includes/wp-db.php
on line
2007
Warning
: mysqli_query(): (HY000/1194): Table 'wp_options' is marked as crashed and should be repaired in
/home/cathdaily/public_html/wp-includes/wp-db.php
on line
2007
Warning
: mysqli_query(): (HY000/1194): Table 'wp_options' is marked as crashed and should be repaired in
/home/cathdaily/public_html/wp-includes/wp-db.php
on line
2007
Warning
: mysqli_query(): (HY000/1194): Table 'wp_options' is marked as crashed and should be repaired in
/home/cathdaily/public_html/wp-includes/wp-db.php
on line
2007
Warning
: mysqli_query(): (HY000/1194): Table 'wp_options' is marked as crashed and should be repaired in
/home/cathdaily/public_html/wp-includes/wp-db.php
on line
2007
Warning
: mysqli_query(): (HY000/1194): Table 'wp_options' is marked as crashed and should be repaired in
/home/cathdaily/public_html/wp-includes/wp-db.php
on line
2007
Warning
: mysqli_query(): (HY000/1194): Table 'wp_options' is marked as crashed and should be repaired in
/home/cathdaily/public_html/wp-includes/wp-db.php
on line
2007
Warning
: mysqli_query(): (HY000/1194): Table 'wp_options' is marked as crashed and should be repaired in
/home/cathdaily/public_html/wp-includes/wp-db.php
on line
2007
Warning
: mysqli_query(): (HY000/1194): Table 'wp_options' is marked as crashed and should be repaired in
/home/cathdaily/public_html/wp-includes/wp-db.php
on line
2007
Warning
: mysqli_query(): (HY000/1194): Table 'wp_options' is marked as crashed and should be repaired in
/home/cathdaily/public_html/wp-includes/wp-db.php
on line
2007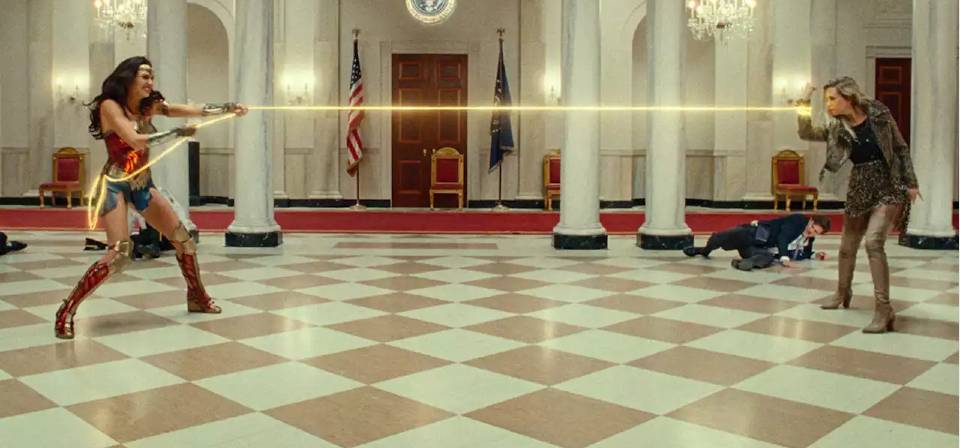 B- SDG Original source: National Catholic Register
Wonder Woman 1984 is bonkers in a way that superhero movies these days don't have the nerve to be.
In its fairytale tone, 1980s setting, and moral earnestness, it reminded me of Superman II, and in other ways it reminded me of Batman Returns. Nobody involved got the memo that comic-book movies in the shared-universe era of Marvel and DC films must be grounded in irony or cynicism or both.
Indeed, WW84 — the only title seen onscreen — barely acknowledges that it's meant to be part of a shared universe.
Directed by Patty Jenkins. Gal Gadot, Chris Pine, Kristen Wiig, Pedro Pascal, Robin Wright, Connie Nielsen, Lilly Aspell. Warner Bros / DC.
Artistic/Entertainment Value
Moral/Spiritual Value
+2 / -2
Age Appropriateness
Teens & Up
MPAA Rating
PG-13
Caveat Spectator
Action violence; brief sensuality and implied nonmarital sex; brief bad language, including an instance of profanity.
Remember that WWI-era photograph of Wonder Woman and Steve Trevor that Bruce Wayne dug up in Batman v Superman: Dawn of Justice and sent to Diana Prince by way of connecting with a mystery super-woman who might be needed again? (If you don't remember? "WW84 is agreeably diverting" might be all you need to know.)
That bit of detective work kind of suggests that Diana (Gal Gadot) has been keeping a low profile for the past century, right? I'm not going to say that WW84 entirely forgets that, but I'm not saying it's real concerned about it either.
WW84 gracefully dovetails these characters' comic-book destinies and desires, along with a DC Comics MacGuffin called the Dreamstone (which may put viewers in mind of Marvel's Infinity Stones, though as with most DC/Marvel convergences DC got there first), into an elegantly simple plot that gives us two classic Wonder Woman villains — along with a global crisis of nearly Infinity War proportions.
After a prologue flashback to Diana's native Themyscira — in which eager young Diana (played again by Lilly Aspell, now 13) learns a hard lesson from her aunt, Robin Wright's stern General Antiope, about taking shortcuts and cheating truth — we catch up with Diana, nearly 70 years after her WWI exploits, working at the Smithsonian in antiquities and doing occasional superheroics. (Without quite staying out of the news, she presumably doesn't leave a lot of photo or video evidence for Bruce Wayne to overlook.)
It's a good thing, I guess, that Wonder Woman isn't much more than a rumor or an urban legend, because Diana Prince isn't much of a secret identity. Glamorous, confident, physically capable, Diana makes no effort to hide behind a façade of Clark Kent timorousness or Don Diego foppish decadence. She doesn't even wear Lynda Carter glasses like she did in 1918.
Action, DC Comics, Superheroes & Comic Book Movies
Home Now Playing Home Video Reviews Articles Blog Mail Search Page About Contact
Warning
: mysqli_query(): (HY000/1194): Table 'wp_options' is marked as crashed and should be repaired in
/home/cathdaily/public_html/wp-includes/wp-db.php
on line
2007
Warning
: mysqli_query(): (HY000/1194): Table 'wp_options' is marked as crashed and should be repaired in
/home/cathdaily/public_html/wp-includes/wp-db.php
on line
2007