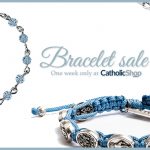 You can never go wrong with a beautiful Catholic bracelet for any special occasion. These are one of our best selling gifts and for one week only, get any item in our bracelet collection for an extra 10% off! Just use the coupon code provide below at checkout and save!
Just use our special coupon code: SUMMERBRACELET. 
Visit CatholicShop.com!