Warning
: mysqli_query(): (HY000/1194): Table 'wp_options' is marked as crashed and should be repaired in
/home/cathdaily/public_html/wp-includes/wp-db.php
on line
2007
Warning
: mysqli_query(): (HY000/1194): Table 'wp_options' is marked as crashed and should be repaired in
/home/cathdaily/public_html/wp-includes/wp-db.php
on line
2007
Warning
: mysqli_query(): (HY000/1194): Table 'wp_options' is marked as crashed and should be repaired in
/home/cathdaily/public_html/wp-includes/wp-db.php
on line
2007
Warning
: mysqli_query(): (HY000/1194): Table 'wp_options' is marked as crashed and should be repaired in
/home/cathdaily/public_html/wp-includes/wp-db.php
on line
2007
Warning
: mysqli_query(): (HY000/1194): Table 'wp_options' is marked as crashed and should be repaired in
/home/cathdaily/public_html/wp-includes/wp-db.php
on line
2007
Warning
: mysqli_query(): (HY000/1194): Table 'wp_options' is marked as crashed and should be repaired in
/home/cathdaily/public_html/wp-includes/wp-db.php
on line
2007
Warning
: mysqli_query(): (HY000/1194): Table 'wp_options' is marked as crashed and should be repaired in
/home/cathdaily/public_html/wp-includes/wp-db.php
on line
2007
Warning
: mysqli_query(): (HY000/1194): Table 'wp_options' is marked as crashed and should be repaired in
/home/cathdaily/public_html/wp-includes/wp-db.php
on line
2007
Warning
: mysqli_query(): (HY000/1194): Table 'wp_options' is marked as crashed and should be repaired in
/home/cathdaily/public_html/wp-includes/wp-db.php
on line
2007
Warning
: mysqli_query(): (HY000/1194): Table 'wp_options' is marked as crashed and should be repaired in
/home/cathdaily/public_html/wp-includes/wp-db.php
on line
2007
As the world grapples with the COVID-19 pandemic, people of faith are turning to prayer. We join you in asking God to ease the suffering brought on by the coronavirus and help our struggling world. 
As Pope St. John Paul II famously said: BE NOT AFRAID. Let your faith guide you, and have peace knowing that this earth is passing and our true life begins in Heaven.
In our Catholic Guide to the Coronavirus Pandemic, we'll be sharing some of our favorite devotions, patron saints, prayers, links, and news related to the unfolding global health situation. Our mission in doing so is to help you and your loved ones persevere and trust in God's will.
We've also gathered some of our favorite devotional items here that apply to the Coronavirus. While these items are not necessarily meant to stave off sicknesses or protect against maladies, we present them here as reminders to pray for the intercession of the saints that they depict, or to have faith in the promises attributed to certain devotions. See the Coronavirus Protection category in our online store.
---
SAINTS AND PRAYERS
St. Edmund the Martyr
St. Edmund the Martyr, also known as Saint Edmund or Edmund of East Anglia, was the king of East Anglia from about 855 until his death in 869.
He is known as the patron saint of protection against pandemics, the plague, and sickness. People around the world are now calling on St. Edmund's intercession against the coronavirus pandemic.
Like St. Roch, St. Edmund became associated with pandemics after his death, when his intercession was believed to have saved people from the plague.
Join us in reciting the prayer below, and see our St. Edmund Patron Saint Against Pandemics Holy Card.
Prayer of St Edmund the Martyr
Into Thy hands, O Lord, and into the hands of Thy holy Angels, I commit and entrust this day my soul, my relations, my benefactors, my friends and enemies, and all Thy Catholic people.
Keep us, O Lord, through the day, by the merits and intercession of the Blessed Virgin Mary and all Thy Saints, from all vicious and unruly desires, from all sins and temptations of the devil, and from sudden and unprovided death and the pains of hell.
Illuminate my heart with the grace of Thy Holy Spirit; grant that I may ever be obedient to Thy commandments; suffer me not to be separated from Thee, O God, who livest and reignest with God the Father and the same Holy Spirit for ever and ever. Amen.
---
St. Corona the Martyr
Saint Corona, who lived in 2nd century Syria, was only 15 when she professed her Christian Faith and was martyred under the rule of Roman emperor Marcus Aurelius.
Corona was reportedly tied by her feet to the tops of two palm trees, which were then bent to the ground and released, killing her instantly.
Saint Corona is reportedly venerated in Austria and Bavaria as the patron saint against epidemics and pandemics, and she is known in the Church as a patron saint of treasure hunters, among other things.
Corona's feast day is May 14. Her remains are housed in a church in northern Italy, the same part of Europe that became an epicenter of the Coronavirus outbreak. We invite you to join us in prayer for Corona's intercession.
The following prayer, said by Pope Francis as he prayed in Italy, is featured on the back of our St. Corona Prayer Card:
Pope Francis' Coronavirus Prayer
O Mary, you shine continuously on our journey as a sign of salvation and hope. We entrust ourselves to you, Health of the Sick. At the foot of the Cross you participated in Jesus' pain, with steadfast faith.
You, Salvation of the Roman People, know what we need. We are certain that you will provide, so that, as you did at Cana of Galilee, joy and feasting might return after this moment of trial.
Help us, Mother of Divine Love, to conform ourselves to the Father's will and to do what Jesus tells us: He who took our sufferings upon Himself, and bore our sorrows to bring us, through the Cross, to the joy of the Resurrection. Amen.
We seek refuge under your protection, O Holy Mother of God. Do not despise our pleas – we who are put to the test – and deliver us from every danger, O glorious and blessed Virgin.
---
Catholic News App
Install the CatholicDaily App on your Apple or Android mobile device and enrich your faith with a daily dose of Catholic news, prayers, Mass readings, and more! It's full of unique features, religious art, and it's free for a limited time.
Plus, our Catholic news app will help you stay up to date on the latest Coronavirus headlines, Mass readings, and more.
Features
Latest Headlines from top Catholic news agencies
The entire Holy Bible in multiple versions
Latest articles from top Catholic bloggers
Daily Mass readings from the USCCB
Catholic videos and films from top channels
Movie reviews from a Catholic viewpoint
Free Catholic eBooks by saints and authors
Interactive forum for Catholic discussion
Virtual Prayer Cards with religious artwork
Favorite Catholic quotes and prayers
Online shopping, coupons for CatholicShop.com
And that's just the beginning!
Learn more about the Catholic Daily App.
---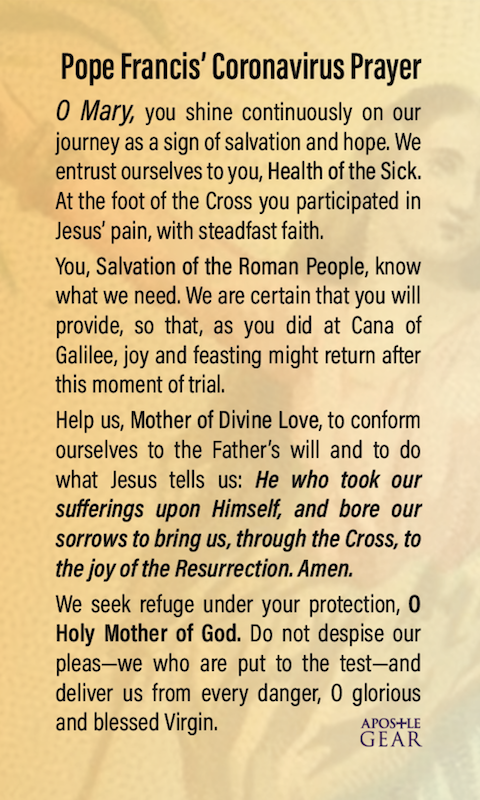 Visit CatholicShop.com!
Warning
: mysqli_query(): (HY000/1194): Table 'wp_options' is marked as crashed and should be repaired in
/home/cathdaily/public_html/wp-includes/wp-db.php
on line
2007
Warning
: mysqli_query(): (HY000/1194): Table 'wp_options' is marked as crashed and should be repaired in
/home/cathdaily/public_html/wp-includes/wp-db.php
on line
2007